Summer 2018 Schedule:
The Astronomy Open Houses will continue throughout the summer.  Since the sunset occurs prohibitively late, the Open Houses will be held at 7:00 pm each month until September. Details below:
May 30th – 7:00 pm – Room 240  University College   - – Compact Objects
June 27th- 7:00 pm – Room 240 University College   - -  The Sun
July 25th- 7:00 pm – Room 240 University College   - – TBD
August 29th – 7:00 pm – Room 240 University College   - – TBD
~~~~~~~~~~~~~~~~~~~~~~~~~~~~~~~~~~~~~~~~~~~~~~~~~
The first in a new series of Astronomy Open Houses will take place on Wednesday, January 31st at 6:30 pm.  Since the planetarium is still under construction, there will be a presentation by an astronomer in University College room 385.  Weather permitting, we will then observe on the roof.
Topic for January 31st, 2018: Cassini – A Retrospective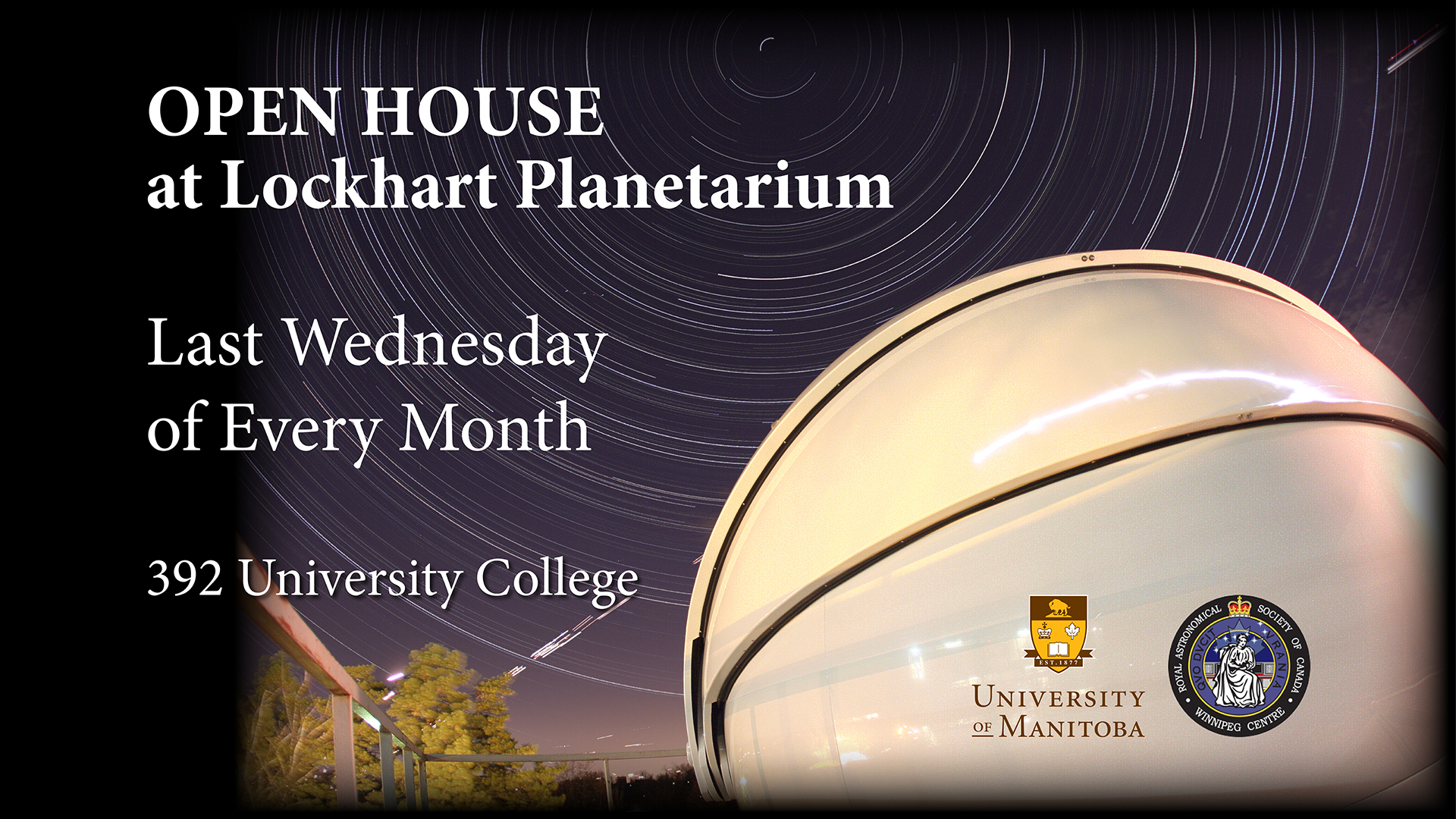 Monthly open houses at the Ewen Campus Observatory and the Lockhart Planetarium in University College at the Fort Garry Campus of the University of Manitoba occur on the last Wednesday of the month beginning at sunset – rain or shine! This event is hosted jointly by the Department of Physics & Astronomy and the Winnipeg Centre of the Royal Astronomical Society of Canada.
The Lockhart Planetarium is located in Room 394 University College and the Ewen Campus Observatory is on the roof (access via the north stairwell of the lecture wing) (See an online interactive map or pdf version.) Free evening parking is available on the South side of the building (Parking Lot B).
There will be a brief introduction in the planetarium to the night sky in season (What's Up?) followed by viewing through the telescopes, weather permitting. Should the weather be unfavourable then there will be another planetarium presentation of astronomy in the news (What's New?).
The open house will last for approximately two hours.
The Planetarium is wheelchair accessible. The campus observatory is not wheelchair accessible at the present time.